Road America IMSA: Alon on pole for JDC-Miller, Ford 1-2 in GTLM
Robert Alon took pole position for the IMSA WeatherTech Sportscar Championship round at Road America on Saturday afternoon.
The 15-minute prototype session produced a thrilling battle for pole, with five drivers swapping the top spot between them.
Colin Braun, who was on pole for the last two races in his #54 CORE Oreca LMP2, set the benchmark at 1m53.213s. Juan Pablo Montoya (#6 Penske Acura DPi) swiped that away with a 1m53-flat, then Renger van der Zande (#10 WTR Cadillac DPi) took P1 with 1m52.458s. Acura's Ricky Taylor lowered the bar to 1m52.140s in #7, but it was Alon – the fifth driver to hold the top spot – who unleashed a 1m52.048, and followed that up with a 1m51.933s to put himself out of reach.
Alon's #85 JDC-Miller Oreca LMP2 took pole by 0.207s from Ricky Taylor.
"Whether we start first, second or third I don't think it's a big deal," said Alon. "My first flying lap felt right, and we went low fuel for the opening laps and hit it right-on. We've been building throughout the year, and it's come from good teamwork basically."
Braun will start third, having improved to 1m56.495s. Van der Zande qualified fifth, ahead of Montoya and Oliver Jarvis's #77 Joest Mazda.
Joao Barbosa qualified seventh on his return to the series in the #5 Cadillac, ahead of Harry Tincknell in the second Mazda.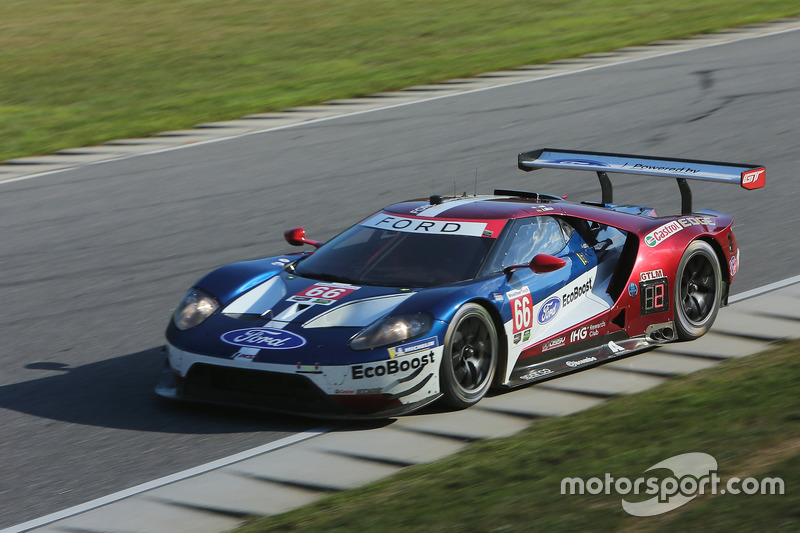 #66 Chip Ganassi Racing Ford GT, GTLM: Dirk Muller, Joey Hand
Photo by: Art Fleischmann
Muller leads Ford 1-2 in GTLM
In GT Le Mans, Ford ruled the roost. Dirk Muller produced a 2m03.042s on his first flying lap in the #66 Ganassi-run GT, before recording a 2m02.533s and then 2m02.479s. Antonio Garcia held P2 for Corvette Racing for much of the session on 2m02.746s, but Ryan Briscoe made it a Ford 1-2 with a late 2m02.650s effort in the #67 GT.
It was Muller's third consecutive class pole at Road America, and the points leader – along with teammate Joey Hand – said: "I really love this place, a lot of corners are like the Nordschleife. It's always good to start first."
Porsche's Laurens Vanthoor jumped to fourth on his final lap with a 2m03.114s in the #912 RSR, pushing Oliver Gavin back to fifth in the second Corvette.
Jesse Krohn, who survived a big moment at the final corner early on, will start sixth in the #24 BMW M8, ahead of the sister #25 car of Alexander Sims.
Nick Tandy was last in class in the #911 Porsche, and had an early lap deleted for a track limits transgression at Turn 1.
#58 Wright Motorsports Porsche 911 GT3 R, GTD: Patrick Long wins GTD pole
Photo by: Richard Dole / LAT Images
Long snatches GTD pole just before red flag
In GT Daytona, Madison Snow set the early benchmark at 2m07.780s in the #48 Lamborghini Huracan, before Dominik Baumann's #14 Lexus dipped under the 2m07s barrier on 2m06.850s. Patrick Long just slipped in a 2m06.593s in his #58 Wright Motorsports Porsche 911 GT3 to take P1 before a red flag for the #51 Ferrari 488 of Francesco Piovanetti plunging off at Canada Corner.
The session restarted with time for only one more flying lap, with neither Long nor Baumann bothering to rejoin. They retained the top two positions, ahead of Snow. Cooper MacNeil will start fourth in his #63 Ferrari, ahead of Ben Keating's rebuilt #33 Mercedes.
"We left Lime Rock dejected, so we're looking ahead," said Long. "It's so tight, but we were able to string together the best lap of the weekend just before the red flag. We completely changed out setup overnight."
The #15 Lexus didn't qualify due to an engine problem, and will start from the back of the grid tomorrow.
Road America IMSA: Alon on pole for JDC-Miller, Ford 1-2 in GTLM