Chandhok to return to Le Mans seeking first podium for an Indian
Former F1 driver begins campaign at Silverstone in European Le Mans Series next weekend.
Le Mans, France: Indian racing driver Karun Chandhok today confirmed that he will return to the historic Le Mans 24 hours race for the third time. Chandhok was the first Indian to drive the iconic Le Mans 24 hours in 2012 and remains the only driver from India to have competed in the historic race. The Le Mans 24 hours race, is widely regarded as part of the Triple Crown of Motorsport, along with the F1 Monaco Grand Prix and the Indianapolis 500.
Chandhok will return to the La Sarthe circuit in the North of France on June 14-15 with the same Murphy Prototypes that he raced with last season and will race the LMP2 Nissan V8-powered Oreca 03. Last year Karun and the team came back from an electrical issue that dropped them to second last place in the LMP2 category to finish in 6th position.
Chandhok, who is supported by JK Tyre and Tag Heuer, could not hide his excitement about returning to what he considers the best races in the world. He commented, "I am very excited to head back to Le Mans for a third time.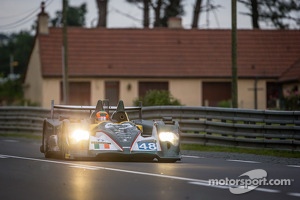 #48 Murphy Prototypes Oreca 03 Nissan: Mark Patterson, Karun Chandhok, Brendon Hartley
Photo by: Eric Gilbert
It's such a hard event to do with over 5000 kilometers of racing through the night but the satisfaction of doing well there in front of such a huge crowd is tremendous. Sportscar racing is clearly on the rise with more manufacturers entering Le Mans than any other championship in the World. There are a lot of guys who raced in F1 like me coming over to Sportscar racing like Mark Webber, Bruno Senna, Giancarlo Fisichella, Sebastien Buemi and Anthony Davidson. It will be good to return to Le Mans with the Irish team Murphy Prototypes as we raced together last year and were very competitive but unlucky. We know what we have to do to get the maximum from the car, but we need a bit of luck as well, and hopefully the luck of the Irish will be with us !"
Team owner Greg Murphy said "Murphy Prototypes are absolutely delighted to have Karun back with us again this year. It is a huge compliment to the team that a driver of Karun's experience and background has decided to drive for us again at the legendary Le Mans 24 Hour race. Karun brings speed, consistency and unbelieveable professionalism. He doesn't have an ego which is really critical when you have to share a car with two other drivers and be a real team player".
The 13.6 kilometres long circuit at Le Mans winds through the Frech countryside, with cars touching top speeds of 315km/h. The race distance is more than 5000 km, which is equal to about 16 F1 races. The Le Mans 24 hours boasts one of the world's largest live audience for a sporting event with over 280,000 people.
Chandhok has also confirmed that he will participate in next weekend's Silverstone race as part of the European Le Mans Series. He added, "It will be great to get back to racing at Silverstone next weekend. It is the ideal way to prepare for our 2014 Le Mans assault. The team have been doing a great job over the winter and I will look forward to working with them closely again."
Chandhok was also quick to thank his long time supporters JK Tyre and Tag Heuer who made this all possible. He said, "Thank my long term supporters JK Tyre, with whom I am entering into my 15th year of association as well as Tag Heuer. I would also like to welcome Sidvin and the AVT group who have leant their support to the Le Mans campaign."
Karun Chandhok
About this article
| | |
| --- | --- |
| Series | Le Mans |
| Drivers | Sébastien Buemi , Brendon Hartley , Bruno Senna , Anthony Davidson , Karun Chandhok , Mark Patterson , Giancarlo Fisichella , Mark Webber , Greg Murphy , Eric Gilbert |
| Teams | Nissan Motorsport , Murphy Prototypes |
Chandhok to return to Le Mans seeking first podium for an Indian