Conway will be "extra-careful" after suspended penalty
Toyota LMP1 driver Mike Conway admits he will have to take extra precautions after being hit with a suspended three-minute penalty for the Le Mans 24 Hours.
In Wednesday night's first qualifying session, Conway collected the DragonSpeed LMP2 Oreca of Roberto Gonzalez, who had spun in the Ford chicane. Gonzalez started to move over to the racing line as Conway went past in the #7 TS050 Hybrid, triggering nose-to-nose contact. 
Despite initial suggestions that Gonzalez was to blame due to his manoeuvre, the stewards handed Conway a suspended three-minute stop-and-hold penalty for failing to slow down sufficiently for the double-waved yellow flags at the chicane.
The penalty will force Conway to take extra precautions. "I just have to be extra-careful, otherwise I'll take a three-minute penalty and then you're a lap [down] at that point," he told Motorsport.com. 
"You always have to be careful anyway in terms of the slow zones, full course yellows, yellow flags. Especially in the night they are quite bright and you can get a glare."
Toyota technical director Pascal Vasselon felt Conway and Gonzalez "shared responsibility" for the accident.
"First Gonzalez because he's the cause of the issue," Vasselon said. "He spins where he should not spin and then he closes the driving line at the moment a car comes by, so it's not super. 
"On the other hand, there is a double yellow and drivers are supposed to control their speed, especially in testing during a normal setup run and not a qualifying attack.
"We are not happy about it, but it's a shared responsibility. Certainly Mike has his share."
#7 Toyota Gazoo Racing Toyota TS050: Mike Conway, Kamui Kobayashi, Jose Maria Lopez with front damage after crash
Photo by: Rainier Ehrhardt
Conway accepted Vasselon's assessment that he was partly to blame for the accident. "I just got caught out there with a late yellow flag," the Briton admitted. "Once I got to the corner it was kind of too late. Obviously I have to take some blame for that. 
"I should have slowed down a bit more and taken more caution, especially in a practice session. But yeah, I didn't expect the car to be driving at me. It's unfortunate, the guys have had to work really hard to get the car back together." 
"I was already into [Turn] 23 and then I saw a double yellow. I was looking for something and then I could see it green already on the exit, so I wasn't sure if it was cleared already.
"I guess at that point I should have really gone on the anchors but I guess with the [cockpit] pillar I didn't see anything. I wasn't as cautious as I should have been."
Conway praised his Toyota team for quickly repairing bodywork damage and getting the #7 TS050 back out after a 25-minute repair job. "I was amazed that they got out so quickly," he said. "They did a good job
"It was all the bodywork on the left-hand side, intercooler pipes, the whole thing had some damage, [they did] an ECU change. We have a lot of wires and sensors under there, so it ripped a whole lot out. I was surprised they got it out so quickly."
Afterwards Toyota detected a crack in the monocoque of the #7 car, forcing it to build up a new chassis ahead of Thursday's remaining qualifying sessions during which Kamui Kobayashi gave the car he shares with Conway and Jose Maria Lopez pole.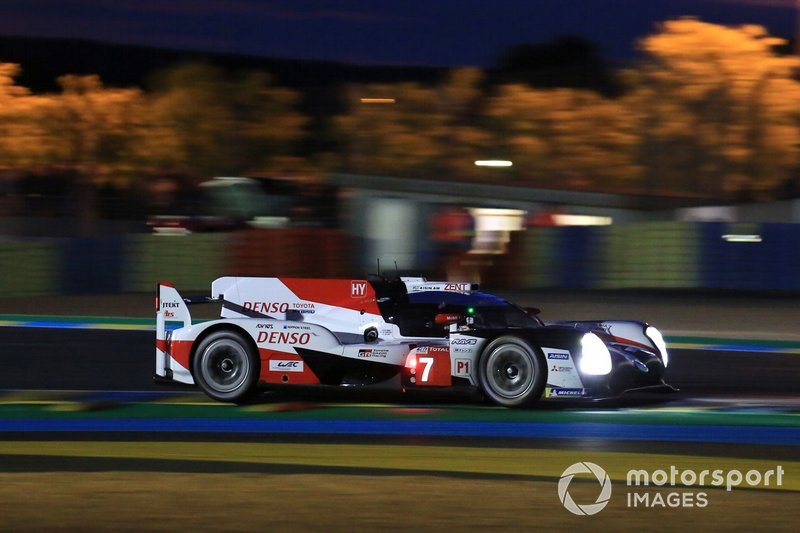 #7 Toyota Gazoo Racing Toyota TS050: Mike Conway, Kamui Kobayashi, Jose Maria Lopez
Photo by: Nikolaz Godet
Conway will be "extra-careful" after suspended penalty