Analysis: How Phillip Island has shaken up MotoGP's form book
While Phillip Island is bringing the worst out of both Honda's and Ducati's packages, Suzuki and Andrea Iannone seem to have clicked perfectly, emerging as surprise favourites.
Phillip Island was one of the few tracks where Suzuki and Iannone enjoyed a solid outing during their torrid 2017 campaign, and the team has improved significantly this year.
It is clear the Australian circuit still suits the Hamamatsu marque's bike very well, and Iannone could be on for the best race weekend of his career, if he were to give Suzuki its first win since Maverick Vinales in 2016.
He has been among the fastest riders all year, over one lap at least, but he has often struggled to convert that into a strong race result.
This time, however, he not only holds the best time of the weekend, but has been a step ahead of everyone in terms of race pace as well.
Most of the frontrunners ended up favouring the hard rear tyre as the weekend progressed but it was Suzuki that tried it first on Friday.
Iannone immediately went below the 1m30s barrier which, aside from qualifying laps on a fresh soft rear tyre, was only achieved by Yamaha rider Vinales for the rest of the weekend.
But Iannone did it three times in FP2, twice in the extremely cold FP3 and five more times in FP4.
Only counting times when the riders' hard rear tyre was over 10 laps old, Iannone has a whopping nine-tenth advantage, and he looks to be managing tyre wear superbly as he logged a 1m30.0s as the 20th lap of his run.
Andrea Iannone, Team Suzuki MotoGP
Photo by: Gold and Goose / LAT Images
However, if there is a track where such an advantage could easily be eliminated, it is Phillip Island, a circuit with a layout conducive to pack racing.
Iannone's dominance was definitely helped by the fact both of MotoGP's strongest riders struggled, mainly thanks to their bikes.
Ducati had a disastrous weekend at Phillip Island last year, and Dovizioso was never going to be the favourite this time around either.
The Italian confirmed that the bike has indeed improved from last year, as his deficit to the pace-setters is not too big, even if he admitted that victory might be out of reach.
Dovizioso is the clear top Ducati runner. Alvaro Bautista's cameo with the factory team hasn't yielded anything particularly impressive yet, and even a top-10 result might be out of reach for the Spaniard.
Local hero Jack Miller threatened to shock everyone during the rainy qualifying at one point and did well to take the sixth grid slot, but ultimately he doesn't look quick enough to cause a major upset – unless the weather throws a spanner in the works once more.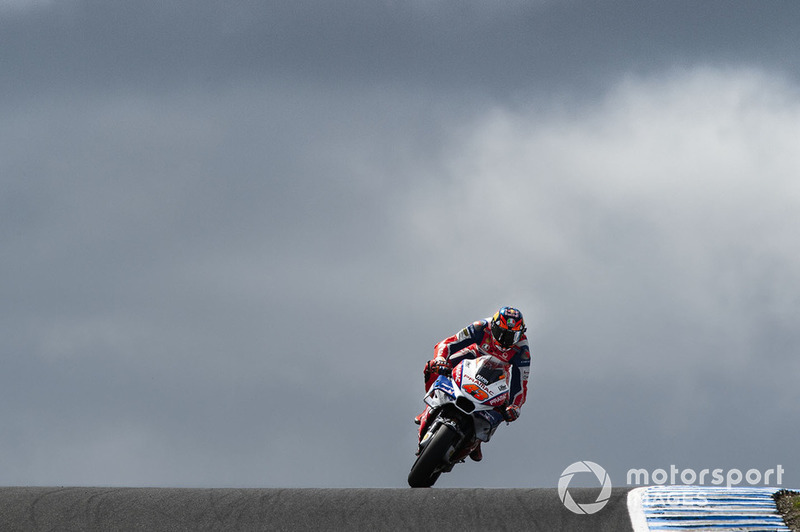 Jack Miller, Pramac Racing
Photo by: Gold and Goose / LAT Images
At the Honda camp, the RC213V's handling looks to be as bad as it's been all year as Marquez, Dani Pedrosa and Cal Crutchlow all crashed on Friday, the latter breaking his ankle in the process.
Pace-wise, Pedrosa has been enduring one of his worst weekends of an already underwhelming season whereas Marquez seems to have made the most of the circumstances.
He is the only top rider with extensive mileage on really used tyres, on both soft and hard rears.
Marquez isn't as quick as Iannone, but he should in theory be able to stay with him for the entire race, which is all he needs to contend for victory.
The closest rider to Iannone in terms of pure speed is Vinales - but on used tyre pace he is only on Marquez's level, which still leaves him well-placed to spend the race in the top group.
His teammate Valentino Rossi hasn't looked as strong as Vinales, and he will only start from the third row, meaning an aggressive start will be vital for him to retain his chances of victory.
Tech 3 Yamaha privateer Johann Zarco did well to qualify to the front row, the Frenchman looking set to make a welcome return to the group of victory and podium contenders.
Iannone's teammate Alex Rins will start right next to his teammate on the second row.
The Spaniard was confident he will have a chance of another podium finish and, while he's been nowhere near Iannone's pace, he is more or less on the level of Marquez and Vinales.
After the Japanese Grand Prix, Rossi said that Suzuki is now better than Yamaha and there would be no better way to prove that than it snatching a win while Yamaha's barren spell continues.
Valentino Rossi, Yamaha Factory Racing, Andrea Iannone, Team Suzuki MotoGP
Photo by: Gold and Goose / LAT Images
Analysis: How Phillip Island has shaken up MotoGP's form book