Miller, Zarco wanted abandoned British GP to proceed
Jack Miller and Johann Zarco were the only MotoGP riders present in an emergency riders' safety commission at Silverstone who wanted the British Grand Prix to proceed.
After hours of delays due to rain – and the newly relaid Silverstone track surface not draining properly – it was decided by the riders, in consultation with race direction, to abandon the event.
Pramac Ducati rider Miller was one of the most vocal proponents in favour of the race going ahead, but was overruled by the overwhelming majority of riders present in the meeting.
Not every rider was present, however, with Valentino Rossi choosing to skip it and accept the verdict of the majority, and Andrea Dovizioso reportedly not being informed in time to attend.
"It's a case of the guys don't want to ride," Miller told BT Sport. "They are not happy with how the asphalt was working in terms of the drainage, and because of the accident yesterday involving Tito [Rabat].
"It's a shame but for me, cancelling it already, we were talking about waiting for the weather to clear up a little bit and stuff like that. To cancel it already short-changes everybody."
Asked if he was the only rider in favour of going ahead with the race, Miller responded: "Myself and Johann."
Zarco's Tech 3 team boss Herve Poncharal – who is also President of teams' association IRTA – likewise confirmed the Frenchman had expressed a desire to race.
"Clearly, it's not a good feeling," Poncharal told BT Sport. "We've been waiting all day long to try to race.
"I think the light is enough to race, their schedule where we had a shorter race, that was still possible. It's wet but there is no standing water on track.
"The riders decided they don't want to race. It's a pity for me, in respect of the crowd who was spending the whole day waiting."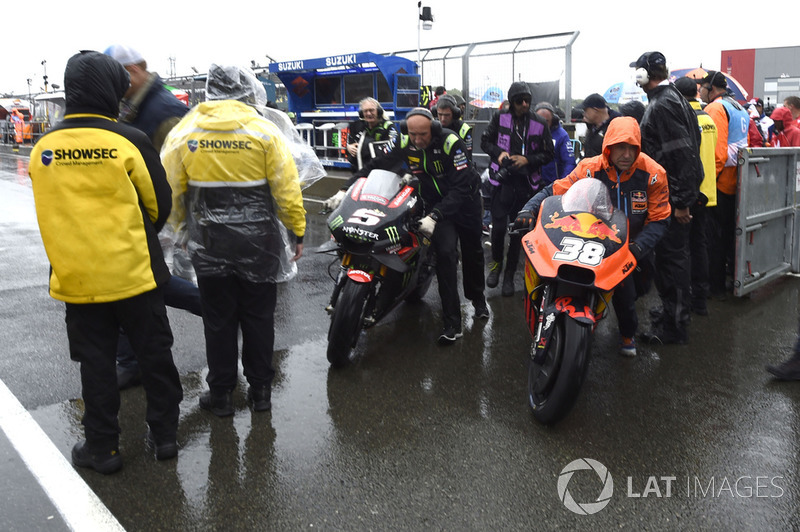 Bikes being pushed off the grid, British MotoGP race 2018
Photo by: Gold and Goose / LAT Images
Although a plan to race on Monday – which is a public holiday in the UK – was discussed by teams and MotoGP officials, this was ultimately rejected.
Poncharal said this was due to the desires of some factory teams, some of which are scheduled to test at Aragon next week, although it's understood a lack of available marshals could have also posed an obstacle.
"There was another opportunity to race also tomorrow, because it's a bank holiday in the UK," Poncharal continued. "We were pushing for that, to race tomorrow.
"We did it in Qatar a few years ago [in 2009], but that was rejected. It had to be a unanimous decision, and a few factory teams didn't want to do it tomorrow, so it didn't happen."
Miller, Zarco wanted abandoned British GP to proceed