Kevin Lacroix gets redemption in 2019 Pinty's opener
Veteran driver picks up fourth win at Canadian Tire Motorsports Park after daring pass by Andrew Ranger on Lap 50 to take the lead for the final time.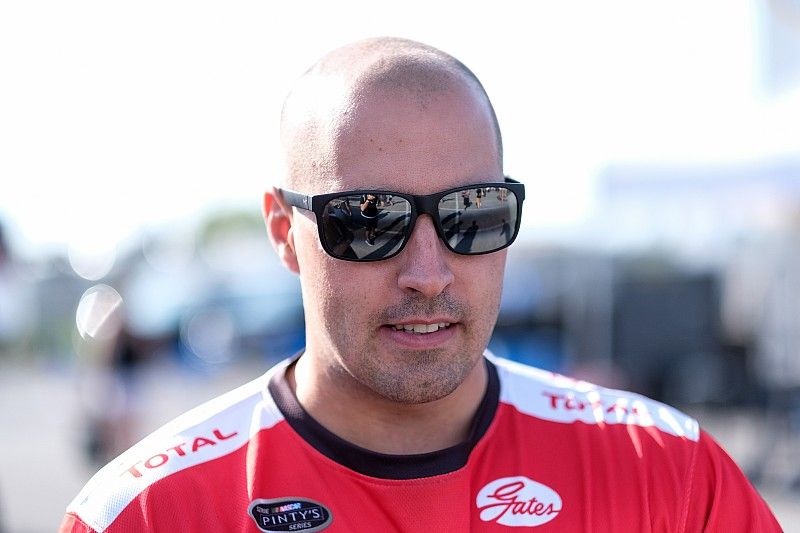 What a difference a year makes for Kevin Lacroix.
Last year he was leading the race on the final lap when he and Andrew Ranger got together giving L.P. Dumoulin the win. This year Kevin Lacroix returned the favor on Ranger except no contact was made.
Lacroix was able to dive inside of Ranger in Turn 10 coming to the white flag and held on to score his fourth Pinty's Series win at Canadian Tire Motorsport Park in the Clarington 200.
It's the fourth win in the past six races at the legendary road course located outside of Toronto in Bowmanville, Ontario.
"It was the same thing as last year and it was a little bit stressful in corner 5 with Andrew (Ranger) but this time we kept it clean and got the win at the end," said Lacroix in Victory Lane after picking up his 11th series win.
"It was different than last year as we waited a little bit longer to pit for tires and it paid (off) at the end of the race to have better tires and it made the car better and faster. (I'm) happy to get the win for Total and Bumper to Bumper."
Ranger finished second with Gary Klutt, who started from the pole, finishing out the podium with a third-place showing.
After providing the drama on the final lap last year, Ranger said he didn't want that to happen again this year.
"We tried to do a different tire strategy different than everyone else and it wasn't the best idea," said Ranger. We finished second and I didn't want to repeat what happened last year (with Lacroix).
"Normally when I finish second I'm not that happy but I'm happy today. The car was fast and very comfortable and the guys did a great job over the winter."
Defending series champion and race winner L.P. Dumoulin was fourth with Jason Hathaway making a solid return to full-time competition with a fifth-place finish.
J.F. Dumoulin was sixth with Alex Labbe also having a good run in his full-time return to the series coming home seventh with DJ Kennington, Peter Klutt and Jason White rounding out the top 10.
It didn't take long for action to pick up on the track when Alex Tagliani, Lacroix and Marc-Antoine Camirand all getting together on Lap 3 while racing in the top five.
Lacroix was able to clear the incident without any major damage while Camirand suffered body damage and Tagliani suffered a flat right rear tire that eventually came apart and gave his career significant body damage.
Ranger and Kennington both decided to pit for tires under caution on Lap 22 and it seemed at the end of the race Lacroix having fresher tires made a big difference when making his pass in Turn 10 late in the race.
Lacroix won the race by .555 seconds over Ranger with 20 of the 23 cars finishing on the lead lap in the competitive season opener.
Race Results
Fin
St
#
Driver
Sponsor / Owner
Car
Laps
Status
Led
Pts
1
 
74
   Kevin Lacroix
Bumper to Bumper / Total / Gates   (Sylvain Lacroix)
Dodge
51
 
 
 
2
 
27
   Andrew Ranger
Mopar / Pennzoil   (Doug Kennington)
Dodge
51
0.555
 
 
3
 
59
   Gary Klutt
Trailcon Leasing   (Peter Klutt)
Dodge
51
1.002
 
 
4
 
47
   L.P. Dumoulin
Weathertech Canada / Bellemare / Eibach   (Marc-Andre Bergeron)
Dodge
51
1.839
 
 
5
 
3
   Jason Hathaway
Kubota / Choko / Premium Bulk Systems / Kugel   (Ed Hakonson)
Chevrolet
51
3.070
 
 
6
 
04
   J.F. Dumoulin
Spectra Premium / Bellemare / TR Mitsubishi   (Eric Kerub)
Dodge
51
3.952
 
 
7
 
36
   Alex Labbe
Hotel Le Concorde / Silver Wax / Festidrag   (Dave Jacombs)
Ford
51
4.241
 
 
8
 
17
   D.J. Kennington
Castrol Edge   (D.J. Kennington)
Dodge
51
5.027
 
 
9
 
42
   Peter Klutt
K-Line / Legendary Motorcar   (Peter Klutt)
Chevrolet
51
8.617
 
 
10
 
21
   Jason White
Powder Ventures Excavations / Westway   (Melissa Mckenzie)
Dodge
51
9.179
 
 
11
 
18
   Alex Tagliani
RONA / EpiPen / St-Hubert / Spectra Premium   (Scott Steckly)
Chevrolet
51
10.200
 
 
12
 
37
   Simon Dion-Viens
Castrol / Rousseau Metal / Best Buy Pieces dA   (Clement Samson)
Ford
51
11.116
 
 
13
 
24
   Donald Theetge
Mercedes-Benz St Nicolas / Circuit Acura   (Scott Steckly)
Chevrolet
51
13.773
 
 
14
 
91
   J.F. Laberge *
Dagobert   (JF Dumoulin)
Dodge
51
14.276
 
 
15
 
64
   Mark Dilley
Leland / NTN / RGC   (Susan Micks)
Ford
51
14.780
 
 
16
 
20
   Raymond Guay *
Rinox / James Hardie   (Anthony Parisien)
Dodge
51
22.500
 
 
17
 
02
   TJ Rinomato *
HOLR / RGC / Watson Building Supplies / Pizza   (Susan Micks)
Ford
51
23.307
 
 
18
 
22
   Marc-Antoine Camirand
GM Paillé   (Scott Steckly)
Chevrolet
51
32.488
 
 
19
 
1
   Anthony Simone
Silverline Tools / Mopar / CBRT / WMI   (Bud Morris)
Dodge
51
39.977
 
 
20
 
28
   Riley Herbst
Monster Energy   (D.J. Kennington)
Dodge
51
53.225
 
 
21
 
46
   Brett Taylor
CVRD Canopies / CBRT / WMI   (Joey McColm)
Dodge
43
8 Laps
 
 
22
 
77
   Jocelyn Fecteau
Roxor / EGB / PC Dupuis / Farnham Ale / Remai   (Katherine Almeida)
Dodge
18
33 Laps
 
 
23
 
67
   David Thorndyke
Thorsons EVT   (David Thorndyke)
Chevrolet
12
39 Laps
Subscribe and access Motorsport.com with your ad-blocker.
From Formula 1 to MotoGP we report straight from the paddock because we love our sport, just like you. In order to keep delivering our expert journalism, our website uses advertising. Still, we want to give you the opportunity to enjoy an ad-free and tracker-free website and to continue using your adblocker.
Become a subscriber.
Disable your adblocker.