Race 2 at Spa: Vernay and Huff make a 1-2 finish for Leopard Racing
The victory allowed Jean-Karl Vernay to further reinforce his lead in the championship standings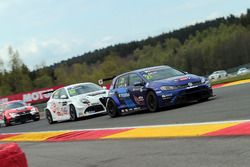 Jean-Karl Vernay confirmed his special relationship with Spa-Francorchamps by taking a superb win in Race 2 on the Belgian track, where last year he had obtained his maiden TCR victory. The Frenchman took the lead with authority in lap 5, passing Edouard Mondron and Rob Huff in one move, and pulled away. The success allowed him to further reinforce his lead in the championship standings.
By finishing second, Rob Huff took a podium finish in his first appearance as a full-time competitor in the series and completed the triumphant day for the Volkswagen Golf cars of Leopard Racing, in what can be deemed as a home win, the team being based in nearby Luxembourg and assisted technically by Belgium's Team WRT.
One year ago the team's Golf cars had dominated the second race as well, placing Vernay and Stefano Comini first and second.
This time Comini took a valuable third place in the Comtoyou Racing Audi RS3 LMS that – together with yesterday's victory in Race 1 – promoted him to second in the standings, though 25 points behind his former teammate.
Once again the TCR International Series competitors delivered a very lively race, with many exciting battles. A trio of Belgian drivers took the positions from 4th to 6th: Edouard Mondron (Delahaye Racing Volkswagen Golf), Benjamin Lessennes (Boutsen Ginion Honda Civic) and Frédéric Vervisch (Comtoyou Audi RS3 LMS) finished in the order.
Davit Kajaia, with the GE-Force Alfa Romeo Giulietta, took 7th place after an entertaining fight with James Nash (Lukoil Craft Bamboo SEAT León) and Attila Tassi (M1RA Honda Civic).
It was a weekend to forget for the two race winners of the previous weekend ion Bahrain. Both, Roberto Colciago (M1RA Honda Civic) and Dušan Boković (GE-Force Alfa Romeo Giulietta) struggled to be on the pace, their cars laden by 30 kilos of success ballast.
Nash was the best of the SEAT drivers in 8th, while his teammate Pepe Oriola saw his hopes swept away in the incident caused by Tom Coronel at the start. As for the two Opel Astra cars of DG Sport Compétition, they were both stopped by a loss of power while Pierre-Yves Corthals and Mat'o Homola were lying 10th and 11th respectively.
The International Series will resume in a few days at Monza for rounds 7 and 8 on May 13 and 14.
Key facts
Start – Potty and E. Mondron start well, but Coronel punts Oriola before La Source, the Spaniard spins and collects the pole sitter Potty; at the back of the field Møller pushes Valente into a spin, they are both out of the race and Coronel as well; Oriola's car is smoking and drops down.
Lap 1 – E. Mondron leas from Huff; Lessennes and Vernay pass Tassi for third and fourth; Paulsen stops along the track.
Lap 2 – Lessennes passes both E. Mondron and Huff at Les Combes but runs wide at the chicane and drops to third again; Huff takes the lead and Comini overtakes Vervisch for sixth.
Lap 3 – Lessennes passes E. Mondron for second at the chicane; Morbidelli and Colciago make contact.
Lap 4 – Kajaia passes Vervisch at La Source for 7th; Lessennes attacks Huff on the outside at Les Combes, they clash and the young Belgian is forced out of the track and rejoins in 5th position.
Lap 5 – Vervisch re-passes Kajaia; the latter make contact with Ficza who spins; at Les Combes, Vernay attacks both Mondron and Huff and takes the lead; Corthals, who was 10th, stops in the pits.
Lap 6 – Homola and Oriola stop in the pits as well; Vernay pulls away and builds a 1-second leading margin on Huff.
Lap 7 – Comini passes E. Mondron for third; there is big battle for 7th between Tassi, Kajaia and Nash.
Lap 8 – Lessennes puts a lot of pressure on E. Mondron but without success.
Lap 9 – Vernay wins from Huff and Comini, E. Mondron, Lessennes and Vervish; in the battle for 7th Tassi goes wide at the 'double gauche' and drops to 9th behind Kajaia and Nash; Altoè overtakes Borković for 10th at the last turn.
Quotes from the Race 2 podium finishers
Jean-Karl Vernay (winner): "My start wasn't that great, but the incident at first corner compensated… In the first laps, I had a terrible understeer, I even thought that I had punctured a tyre, but tried to stay calm and things improved progressively. When I attacked Edouard Mondron for 2nd, I certainly did not plan to pass Rob as well, but I took the lead and from then on, everything went smoothly. It's a very good result for the team, who is doing a perfect job, and for the championship where we lead despite not having the fastest car. It's my second win at Spa, but contrarily to many drivers, I am not a fan of this track…"
Rob Huff (second): "At the start, I realized looking at the mirrors that Coronel was braking too late and I tried to leave room and avoid trouble. I could pass Edouard Mondron to take the lead but then I got under attack from Lessennes. He hit me on a wheel at Les Combes and he went off track, but after that my steering was a little bit bent. When I saw Jean-Karl coming back on Mondron and me, I braked a little bit earlier to let him more room and take the lead, and the rest is history. It's a very good weekend for the team and I am really happy to be able to contribute its success."
Stefano Comini (third): "A very good weekend for us, maybe even too good! I am saying this because we are going to have some heavy success ballast at Monza, my home race, next weekend. But I am not complaining. Today, I knew I had to push hard in the first laps to get close to the top, but I got stuck behind my teammate who was making his race. I just killed my tires trying to pass him and after that the front guys were too far away. This said, it has been an excellent weekend for the Audi, Comtoyou Racing and myself, so I am very happy."
TCR International
Subscribe and access Motorsport.com with your ad-blocker.
From Formula 1 to MotoGP we report straight from the paddock because we love our sport, just like you. In order to keep delivering our expert journalism, our website uses advertising. Still, we want to give you the opportunity to enjoy an ad-free and tracker-free website and to continue using your adblocker.
Become a subscriber.
Disable your adblocker.