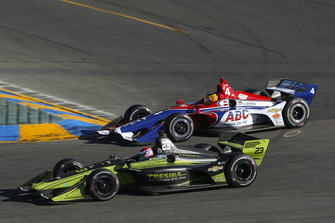 Driver
Charlie Kimball
1985-02-20 (age 34)
Filters:
Championship
Driver
Team
Event
Location
Article type

Charlie Kimball has landed a full-time NTT IndyCar Series ride with AJ Foyt Racing in 2020.

As the NTT IndyCar Series gathers at WeatherTech Raceway Laguna Seca for the first large group test of 2019, David Malsher looks at some of the main topics to watch in the season ahead.

Charlie Kimball has announced he will compete in just five NTT IndyCar Series races with Carlin Racing this year, including the Indianapolis 500.

Notwithstanding Scott Dixon's perfection and a fine result for Canadian fans, the hero of the Toronto IndyCar race last weekend was Charlie Kimball finishing fifth for Carlin. He talked to David Malsher about driving for a rookie IndyCar team.

Trevor Carlin says his team's gradual improvements in the opening half of its first IndyCar season have left him proud of not only his drivers but also the pitcrews.

Trevor Carlin says his rookie IndyCar team is gaining traction in the series, after Long Beach saw him get its best grid position and best finish of the season at Long Beach.
Charlie Kimball led his ex-teammate Scott Dixon in final practice before tomorrow's night Desert Diamond Phoenix Grand Prix at ISM Raceway.

Charlie Kimball says that the switch to rookie IndyCar squad Carlin Racing, from one of the series superteams, Chip Ganassi Racing, offers him a great opportunity to grow.
Charlie Kimball says that Carlin's first race in the 2018 IndyCar series was disappointing because the team should be fighting for podiums, but Max Chilton said it was an acceptable first showing.

Who can we expect to see challenging Team Penske for the 2018 Verizon IndyCar Series championship, and what are the achievable targets for all the teams in a season of technical upheaval? David Malsher is your guide.
Despite suffering electrical gremlins, Trevor Carlin says his team is satisfied with its first day of testing an IndyCar on an oval – but said Charlie Kimball and Max Chilton were "shocked" by the reduced downforce from the new aerokits.

Charlie Kimball says he's expecting Carlin Racing to cause a stir in its first season in the Verizon IndyCar Series.

New IndyCar team owner Trevor Carlin says it was a moving experience to see Max Chilton and Charlie Kimball embark on the team's first shakedown test with a Dallara-Chevrolet at Homestead-Miami road course.

Trevor Carlin says that his eponymous team will likely have a "tough birth" in the 2018 IndyCar season because he estimates it was six weeks behind schedule at launch.

Carlin has confirmed it will join IndyCar in 2018 using Chevrolet engines and running ex-Chip Ganassi Racing drivers Charlie Kimball and Max Chilton.
Alexander Rossi led a 1-2-3 Honda sweep of the podium Sunday at the INDYCAR Grand Prix of the Glen
Andretti Autosport driver Alexander Rossi scored his first-ever pole position in the IndyCar Series
Josef Newgarden, driver of the #2 PPG Automotive Fnishes Team Penske IndyCar Chevrolet V6, takes the checkered flag at Gateway Motorsports Park
Takuma Sato took pole position for tomorrow's ABC Supply 500 Verizon IndyCar Series event on the 2.5-mile Pocono Raceway

Chip Ganassi Racing-Honda driver Charlie Kimball says the repaving work on the 1.25-mile oval at Gateway Motorsports Park will create a great race for the Verizon IndyCar Series.

Will Power, James Hinchcliffe, Charlie Kimball and Max Chilton believe a version of the Formula 1 Shield will be "the way forward" for IndyCar safety, without robbing it of its open-cockpit roots.
Dixon captures prized Road America win, 41st victory of Indy car career

Nine races down, eight to go, and the usual suspects are starting to assert themselves in the 2017 Verizon IndyCar Series after a very open start to the season. But certain statistical anomalies could have far-reaching effects, says David Malsher.
Chip Ganassi Racing-Honda duo Charlie Kimball and Scott Dixon have admitted they're heading into tonight's IndyCar race at Texas Motor Speedway with question marks over how much grip can be found at the reprofiled Turns 1 and 2.