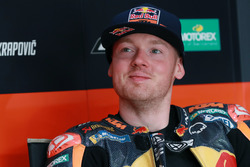 Driver
Bradley Smith
1990-11-28 (age 29)
Filters:
Championship
Driver
Team
Event
Location
Article type
This week's group test at Jerez was the final on-track running for MotoGP for 2018. Here are the best pictures, including some old faces in new places!
Aprilia's Aleix Espargaro will skip the last MotoGP test of the year due to being hospitalised with gastritis, and will be replaced by 2018 test rider Matteo Baiocco.
Jonas Folger says it is possible that he will make his MotoGP race return in 2019 as he is discussing potential wildcard appearances with Yamaha.

Former KTM MotoGP rider Bradley Smith says he was "positively surprised" by the behaviour of the MotoE bike when he sampled it for the first time in Jerez on Friday.
KTM MotoGP rider Bradley Smith says he is "a little bit worried" about the Valencia race on Sunday after "borderline dangerous" track conditions in Friday practice.

Current KTM MotoGP rider Bradley Smith has finalised his move to the all-electric MotoE support category for the 2019 season.

KTM rider Bradley Smith believes achieving the Austrian manufacturer's maiden top-eight result in MotoGP is still possible in 2018, after completing his first two races with a new package.

Prime
British representation on the MotoGP grid will shrink to just one rider - Cal Crutchlow - in 2019, and he's made it clear he won't be around long-term. But there are reasons to believe the drought will be brief.
Ducati MotoGP rider Jorge Lorenzo has criticised the stop-start pack qualifying style on display at Aragon, comparing it to the Tour de France bicycle race.

MotoGP's new all-electric support class MotoE has unveiled a five-round calendar for its inaugural season in 2019.

The Aprilia MotoGP team has announced that current KTM rider Bradley Smith will be its test rider next season.

Bradley Smith says he's close to reaching an agreement to become Aprilia MotoGP test rider and hopes a deal can be concluded with the Italian manufacturer this weekend.